Avalon Park Preserve Needs You!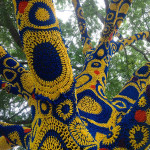 Last winter we called on you to help be a part of our community-focused project, Hooked@LIM: The Crocheted Tree Project.  Thanks to more than 200 volunteers, this mammoth project has expanded!
The Long Island Museum has joined forces with our neighbors, Avalon Park & Preserve to include an additional tree on the park grounds as part of the project.
Artist Carol Hummel will hold additional workshops at Avalon Park where once again, you can learn the patterns and techniques needed to create the beautiful yarn designs that will cover the Avalon tree.
Workshop #1:  Saturday, May 30, 5 – 8 p.m.
Workshop #2:  Sunday, May 31, 9 a.m. – 1 p.m.
If you are interested in volunteering, or if you've already created designs for the museum and you need a refresher course, call Avalon Park and Preserve at (631) 689-0619, or e-mail 
info@avaonparkandpreserve.org
.
No experience is necessary and workshops are free.  Come and be a part of this exciting partnership and help bring this fabulous project to life!