When longtime Northport teacher John William Hosie (Bill) passed away last November the Retired Teachers of Northport received donations to create a scholarship in his name. It was decided that the scholarship would be given to the graduating son or daughter of a current member of the United Teachers of Northport. The chosen recipient was Robert Cusack, son of Stephanie Cusack, a third grade teacher at Norwood Avenue School. The scholarship was presented at the United Teachers of Northport Retirement Party on Friday, June 10, by members of Bill's family. His daughter, R-UTN member Cynthia Gorman, honored her father and Robert Cusack at the event.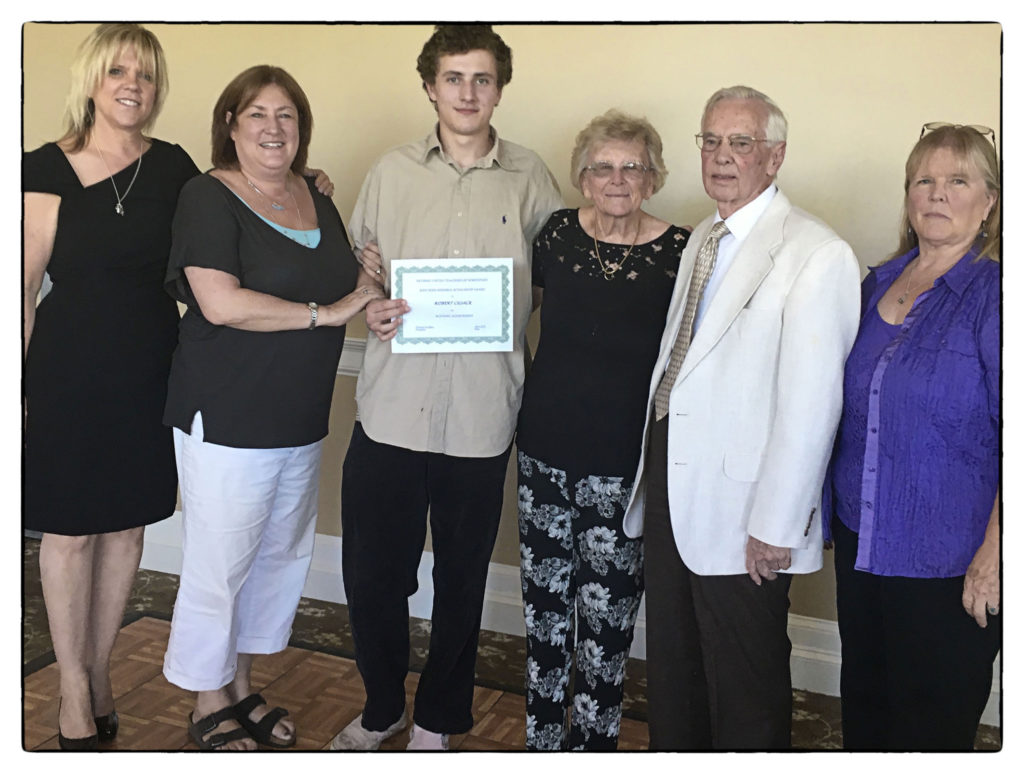 From left to right: Nancy Hosie Pierce, Stephanie Cusack, Robert Cusack, Sylvia Hosie, Dave Hosie, Cynthia Hosie Gorman.

My father came to Northport in 1950 to begin his career as a Northport High School science teacher. At that time he was one of only two science teachers at the high school which now has 29 science teachers. He devoted 38 years of his life to hundreds of Northport students, and faculty, and 65 years to the Northport community, as well.
He and my mother were thoughtful helpers, and didn't need recognition in order to assist anyone who needed it.
Because of that, when he died last November 30th, people from all over the country thought to honor him by giving donations to establish this scholarship in his name. We; my mother Sylvia, who taught in Northport for 18 years, myself Cynthia Gorman, who taught here for 34 years, my uncle David Hosie, who taught here for 32 years, and my son Matthew Gorman who is teaching 6th grade science in East Northport Middle, as well as my sister Nancy Pierce, who taught in Hicksville and all our other siblings, children and grand children, are honored to award this scholarship to Robert Cusack.
Robby is a senior at Northport High School. His academic honors include Honor Roll every quarter, National Honor Society, and Scholastic Gold Winner. His extra-curricular/co-curricular activities include Eaton's Neck Community Basketball and Cow Harbor Travel Soccer. He attends live drawing classes at the Huntington Arts Council. Robby would like to give a "shout out" to Ms. Margaret Minardi and Mr. John DeRosa, who have been such an inspiration and have helped him to hone in on his artistic talent. As a result, Robby has been accepted into the School of Fine and Performing Arts at SUNY New Paltz, where he will be attending classes in the fall.
Robert, be kind and generous with your time and work hard at whatever you decide to do in life. You have a lot to live up to, and my father would be amazed that so many people would honor his memory in this way.
Congratulations!
Cynthia Hosie Gorman