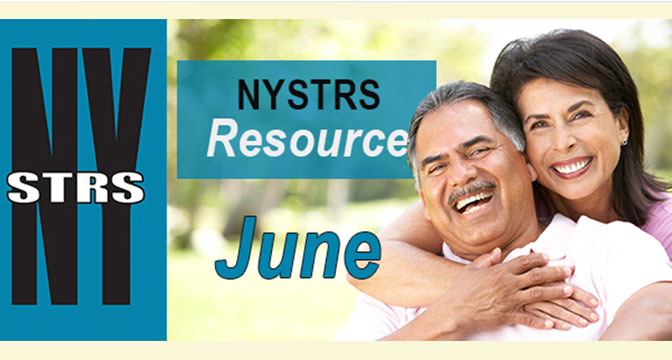 The June 2015 issue of NYSTRS' Resource newsletter is now available on the NYSUT website. Download the newsletter (PDF).
In This Issue:
Coming in September: A COLA Increase
Eligible retirees receiving a monthly benefit of any amount from NYSTRS will see a cost-of-living adjustment (COLA) of 1.0% on the first $18,000 of their annual benefit payment beginning this September, the result of legislation enacted in New York 15 years ago.
NYSTRS Remains a Top-10 Fund
NYSTRS is once again ranked among the top-10 pension funds in the nation according to trade publication Pensions & Investments (P&I).
Promised Pensions Are Guaranteed
NYSTRS retirees have received benefits in full and without fail since 1921.
Your Pension a Better Bang for the Buck
Pension plans like the one administered by NYSTRS are far more cost efficient at providing retirement income compared to individual defined contribution accounts, according to a study conducted by the National Institute on Retirement Security (NIRS).
Changing Banks? Also Change Direct Deposit Info
If you're changing banks, make sure you update your direct deposit instructions with NYSTRS. If you have a MyNYSTRS account, you can now make the change online at NYSTRS.org.
Experience the Convenience of MyNYSTRS
A MyNYSTRS account gives you access to all your Retirement System benefit information and a variety of self-service tools – accessible in one convenient, secure location.
You're Invited to Clean Out Our Account!
NYSTRS holds $13.5 million in an Abandoned Accounts Fund that the System would ideally like to see drawn down. Your help in locating rightful owners of the money would be appreciated.
Read previous issues of Resource on the NYSUT website. – See more at: http://rc23.ny.aft.org/member-benefits/nystrs-resource-june-newsletter#sthash.WiPigUtT.dpuf