A request from T-UTN member Diane Martell —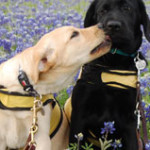 The Guide Dog Foundation and America's VetDogs are not-for profit organizations in Smithtown that provide guide, service and hearing dogs for people with disabilities. I am helping the Foundation recruit volunteers for their speakers bureau to assist with different speaking engagements, including their 90 minute Talk and Tour of  the Smithtown campus. To volunteer please contact Bill Krol, Communications Manager, at Bill@GuideDog.org or Diane Martell at dmar23rad@aol.com.
Thanks for your support!