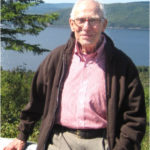 Ernest Taub, former Northport High School teacher and Assistant Principal, passed away on May 23 at the age of 86 at his home in Huntington. His passion and expertise inspired generations of students and colleagues at Northport High School between the years of 1961 and 1996, as well as at Stony Brook University.
He was born in Brooklyn, the son of Polish-Jewish immigrant parents, and served in Intelligence in the United States Air Force.
He will be dearly missed for his joy in life, intelligence, humanity, and good humor. Ernest's interests were very eclectic: he combined a deep love and knowledge of art history which he studied at Brooklyn College along with English Literature. He started to express himself in abstract paintings after age 70; he read voraciously, and he loved sports, playing tennis into his 80's.
He is survived by his wife, Carol Montparker, his daughter, Bonnie , and her husband, David Gordon; Ernest's son, Jon; his step-son Dennis Parker and his spouse, Jacqueline, his step-daughter, Kim, and her spouse, Felipe Porto, and five grandchildren, Rollie, Steven, Linda, Julia, and Zoe.
A private interment will be succeeded by a memorial service in early July.
In lieu of flowers, donations may be made to the Family Service League, Huntington, www.fsl-li.org