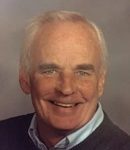 Robert (Bob) Hynes, retired Director of Physical Education Athletics and Health,
passed way on March 3 in Hilton Head, North Carolina. During Bob's career as an educator in the Northport-East Northport UFSD he taught junior high school physical education, coached baseball and later served as district administrator. Following retirement Bob and his wife Barbara moved to Hilton Head, South Carolina, where he remained active in the community, including a leadership role with a local golf club, and the delivery of meals to families in need in the low country.
Bob is survived by his wife, Barbara; his children, Amy and Robert; his grandchildren, Sam, Allison, Lucas, and Cathryn, and his brother, John. Burial will be private and a celebration of life will be held at a later date.