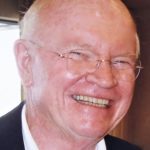 Michael Glennon, former Northport High School English teacher was and English Chairperson, passed away on July 7, 2018. After leaving Northport he served as the principal of Wheatley High School in Old Westbury. He is survived by his wife, Patricia Driscoll Glennon; two sons, Michael and Patrick, his daughter Martha Linetzky and six grandchildren. He was pre-deceased by his first wife Constance and his daughter Mary.
Visiting hours will be held at the Nolan and Taylor Howe Funeral Home from 2:00 – 4:30 & 7:00 – 9:00 p.m. on Sunday July 15. Funeral Mass 10:30 a.m. on Monday, July 16 at Our Lady Queen of Martyrs Church, Centerport, NY. Interment to follow at the Northport Rural Cemetery.
Donations in his memory may be made to Good Shephard Hospice, 200 Belle Terrre Rd., Port Jefferson, NY 11777, www.chsli.org.