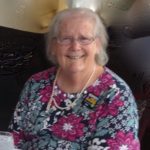 We are sorry to announce the passing of Nancy Gustave, former Northport teacher and long time member of the Executive Board of the R-UTN
. 
Nancy had requested no ceremony when the time came – so she was quietly cremated. Wilfred requested that for those who wish to memorialize Nancy, that donations be made to the Hospice House.  Send donations to VNSHS, 101  Laurel  Rd, East Northport NY 11731, in memory of Nancy S. Gustave.
A tribute to Nancy, by Ellsworth Welch, former Principal of Ocean Avenue School, can be found on the
In Memoriam
page of this website.