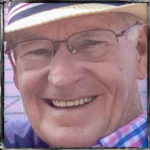 Dr. Peter Clark, Retired Principal of Norwood Avenue School and husband of Barbara Clark, retired Bellerose Avenue Teacher, passed away on May 19.
Before becoming an administrator Peter taught English at Northport High School and in Edinburgh, Scotland, on a Fulbright Scholarship. After retiring from Northport he taught English at St. Anthony's High School in South Huntington. After moving to Hilton Head, North Carolina he volunteered as a professor of Shakespeare and Film at the Osher Lifelong Learning Institute through the University of South Carolina.
Visitation at Nolan & Taylor-Howe Funeral Home, 5 Laurel Ave, Northport, on Thursday, May 24th and Friday, May 25th  from 2:00-5:00 p.m. & 7:00-9:00 p.m. each day. A funeral mass will be said at St. Philip Neri Church, 344 Main St, Northport, at 10:00 a.m. on Saturday, May 26th.