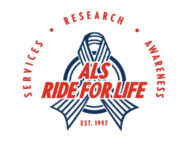 The ALS Ride For Life was founded by Chris Pendergast, our much beloved colleague who lost his life to ALS late last year. Each year the foundation holds an Honoree Recognition Benefit, and this year it is being held on April 28, what would have been Chris's 72nd birthday.
Chris built the organization on a solid foundation, knowing that they would need to continue without him one day. His wish was that his work continue, providing much-needed services to patients, funding promising research initiatives, and raising awareness of the disease.
This year's benefit will honor Chris's life work for ALS, highlighting all he achieved in his relentless dedication to defeating this dread disease. It was hoped that it could be held in person this year, but it must once again be held a virtual format. As we have in the past, the R-UTN will be one of the benefit's sponsors, and any of our members who would like to make a personal contribution are encouraged to do so.
To become a sponsor, or purchase tickets for the April 28th event, visit the Ride for Life web page and scroll down to Upcoming Events and click on Honoree Recognition Benefit.