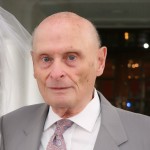 Update on the passing of Fred Meyer, retired Middleville Middle School Assistant Principal. Fred passed away peacefully at his home in Avon, Connecticut two weeks shy of his 86th birthday. Friends are invited to call at the Vincent Funeral Home, 120 Albany Turnpike in Canton on Sunday, April 3rd from 1:00 PM to 3:00 PM closing with a sharing of remembrances by his family. Refreshments will follow at the home of his daughter Jeanne Lebens.  In lieu of flowers, donations may be made in Fred's memory to the Farmington Valley VNA, 8 Old Mill Lane, Simsbury, CT 06070.
Born in Germany in 1930, Fred and his family fled from the Nazis and immigrated to the United States in 1939. He was a veteran of the Korean War, having served as the US Military Liaison Mission to the Soviet Commander-in-Chief, stationed in Pottsdam, Germany, which was in the Russian zone at that time. His career in education spaned 36 years as a teacher, guidance counselor, Director of Guidance and Assistant Principal  in the Valley Stream and Northport-East Northport school districts.
An obituary is posted on the Vincent Funeral Home website.